Gabriel García Márquez states it beautifully, "It is not true that people stop pursuing their dreams because they grow old, they grow old because they stop pursuing their dreams."   When Dad turned 90 I realized 60 was young (and I wasn't quite there yet).  Think about it, the first 30 years, you're finding your way, the next 30 years you're working your way and I say, use the last 30+ years to do it your way!   
The mindset of the Greatest Generation was to work until you're 65, retire, receive medicare and social security.  I remember, Dad did that and within a year he was bored out of his mind and partnered with a good friend in a small exploration business.   That kept him busy until he was about 80.  Then he started volunteering at a church-run thrift shop weekly — he quit that when Mom got sick and she became his full time job.  
As I enter my 60s I'm launching a company,  working my consulting job and writing articles.  I love the deadlines and the intellectual stimulation.  I think we all do.  That makes me think it really is up to us to stimulate our minds in ways that make sense for each of us individually.  At the age of 77 Donna Shalala is running for Congress, at the age of 81 Madeline Albright is on tour for her latest book and at 93 Jimmy Carter is still relevant!  Yes, they've chosen a national platform but being relevant in a smaller community is no less satisfying.
With today's technology and car-ride services there is no excuse to stay at home if you want to get out.  And, if you get out, you're more relevant.  I know an octogenarian amateur playwright (soon we'll be seeing one of his summer shorts!), and several septegenerian Starbucks employees.  All are happy and "pursuing their dreams."   Let's join them!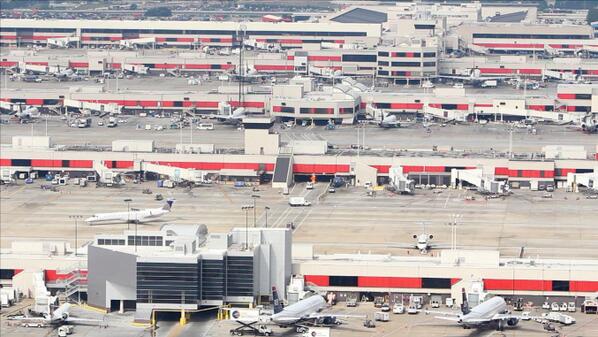 THE AIRPORT WHEELCHAIR – HOW TO NAVIGATE THE SYSTEM
The other day, while running in Crandon Park, I came across my friend, Lilian, whose elderly Mom is in pretty good health.  Every year she and her Mother go to Santa Fe, New Mexico for mother-daughter time.  This means, she, like me, needs to utilize the wheelchair services provided at airports.  We're both experts on the do's and don't's and have compared notes.  So, although I'm writing the column, Lilian is a great source of research.  She, like many of us, is living it.
Eulan the wheelchair provider at Miami International Airport, has no competition — this means they don't have to try  . . . and it shows.  When Dad first needed a wheelchair, I used to drop him off at Door #3, walk him in and sit him down in the wheelchair area.  I'd make sure his name was in the book with his flight time.  Then I would leave.  Big mistake — basically,  wheelchair dependent travelers are at the mercy of strangers.  It's as if they are cows in a pen being led to slaughter.  OK, I exaggerate . . . but only a little!  Too many times,  a person is forgotten and are raced to the gate in a cart.  Think of how stressed you are when you might miss your flight and double that feeling for someone who has no control and elderly.
That's not all, the Eulan workforce, i.e. the wheelchair drivers, are paid minimum wage and expect tips.  They don't care about your family member, they want to transport as many people in the shortest amount of time and make money.  I remember one particular scene I created when the wheelchair driver left my father alone to retrieve other passengers from other TERMINALS (not gates)  to place them all in one cart!  This means Dad is sitting in a chair for 20 to 30 minutes.  Luckily, I was with him and that didn't' happen. BUT, it does happen and it happens more than it should
This is the system and although I don't like it we must live in it.  Here are my suggestions:
Ensure that you have $5.00 bills, $10.00 bills and $20.00 bills in your pocket/wallet;
Get a pass from the airline to escort your loved on to his or her gate;
If you're a member of the American Express Centurion Lounge or an airline club, have the wheelchair take your loved one there by wheelchair then arrange for a guest services cart to take him or her to the Gate at an appropriate time — these clubs specialize in customer service.  Whoever the driver is give him $10.00.
If you're not a member of a club then escort the wheelchair and the attendant to the gate and tip the attendant well.  (I do it on length of transport – the more distant the gate the larger the tip with Gate 60 being $20.00.) Give your family member the $5.00 bill and tell the attendant that it's for him after he takes the family member to the door of the airplane.  This is a little extra security — it mightn't always work but it usually does.
For connecting flights in other airports stay with your family member.  They will take them off the plane and leave them in the wait area to go get more folks off the plane.  That's when you pull out the $5.00 and tell them you have a connecting flight and need them now — ask them to call a peer to retrieve the other passengers.  When you arrive at the gate — another tip.
Yes, it costs money but its the best way to work within the system and have peace of mind.  If you have other suggestions please let me know.  If you can't don't have time to do this for your family members, call us at Parenting Your Parents — yes, a little more expensive but you still have peace of mind!
This occasion has been in the making for over a year . . . family is coming together and it's a happy, happy occasion. The entire time your parents have been part of the plans . . . where they will sit, what they will wear . . . And now, it's a month away and Mom is unable to travel because of her dementia and Dad a little weaker from a hospital stay. Often the kids make the decision — they cannot come. But wait, why not??
Again, we as the children have to ask the question, is it because we don't want to be bothered or is it because Dad simply cannot handle the travel? Our company says: ask Dad! If he says yes, here are a few suggestions:
You want to avoid having your parent travel alone. We say, hire a traveling babysitter. Depending on your parents health, the person can be hired for both or one.
Why a babysitter? First, the airport mania is overwhelming. There are wheelchairs available but someone must supervise the attendant. I've seen seniors left by themselves while the attendant goes to pick up more passengers to fill up a terminal bus. That is not how my parent is going to be treated and nor should yours.
Secondly, the airplane ride. Will they need help getting to the restroom? Are they in an aisle seat where it's easy to get up and down? What about getting those headphones in the ears so the show can be watched?
Thirdly, landing. Yes, the airline will have the wheelchair waiting but it's a strange airport with all the chaos of any large meeting space. The babysitter adds calm to the chaos and supervision to the wheelchair attendants.
Lastly, the party! No one family member wants to go to take Dad to his room and skip the rest of the party. Nor is it fair to have a family member in charge of dinner, getting the elderly to their table . . . etc. Think of how much you've already spent on this party. What's a few more dollars if it means your parents/grandparents can be in the photo? The memories last you a lifetime.
So yes, there are options. The babysitter costs money but helps to prevent resentment. At Parenting Your Parents that's what we do — make certain that your family event is a family event with minimum trauma.